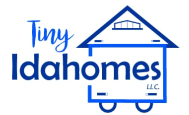 What is a Tiny Home RV?
A Tiny Home RV is Recreational Vehicle. Our Tiny Home RV is built to travel and will keep you cozy when you are on the road or camping for short or extended periods of time. A Tiny Home RV is intended to simplify and better the RV lifestyle while providing comfort and modern conveniences.
Why Tiny Idahomes?
Unparalleled Craftsmanship
We take a lot of pride in providing the finest products through commitment and dedication.  Customer satisfaction is our priority. We offer start-to-finish solutions for every project including full design services, tiny house plans and expert advice focused on your new tiny home construction.
Customizable Upgrades
We offer a variety of floor plans and upgrade options to suit everyone
We are the designers and builders!
Praise From Our Customers
The best decision we ever made was to buy our tiny house.
- Lisa and Mike
Jesse and Anca make the process so easy. We were full of questions and they were full of answers.
- Tim and Linda